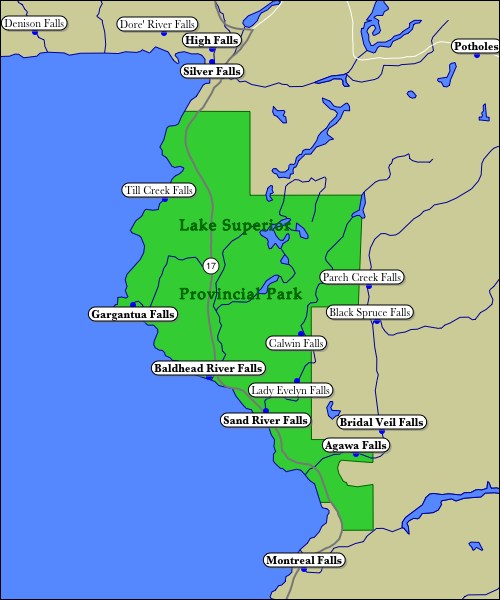 Lake Superior Provincial Park is located on the eastern shore of Lake Superior. Highway 17 cuts through the park and provides easy access to some of the parks features such as Sand River Falls. The many other falls in the park require some hiking. The hike to Agawa Falls, the most impressive fall in the park, is a full day affair. Many of the falls, and large parts of the park, are only accessible by canoe or off-trail hiking. Till Creek Falls is the highest waterfall in the park and can only be reached from Lake Superior.
Several other remote waterfalls can be found just east of the park. Bridal Veil Falls is in Agawa Canyon which can be reached on the Algoma Central Railroad. High Falls and Silver Falls in nearby Wawa are easily visited by car.
All of these waterfalls are in the Lake Superior Watershed. This interactive map will let you explore all the waterfalls in the Lake Superior Watershed.
---
This page has been accessed 29523 times.
Last Modified: Tuesday, 25-Mar-2008 16:01:35 MDT.