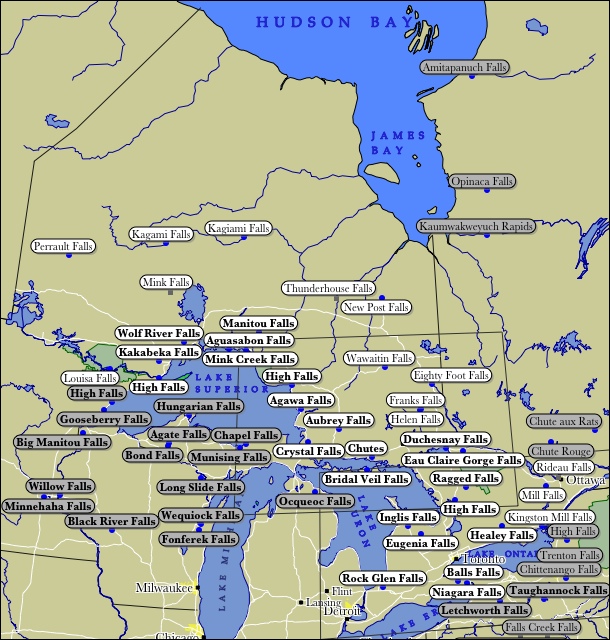 Ontario is the most populated of the Canadian Provinces. On the plus side it also has lots of waterfalls. :) Ontario is a big place. Driving from the western border to the eastern border would take over 24 hours. Large parts of Ontario are essentially wild. There are no real roads north of Highway 11, just lots of wilderness and who knows what else.
For a more comprehensive list of Ontario's waterfalls see Mark Harris's Waterfalls of Ontario. You can also explore the Geographical Names of Canada which lists the names and locations (but no descriptions) of over 400 waterfalls in Ontario.
Ontario has many different waterfall regions. In southern Ontario the Niagara Escarpment is responsible for a large number of waterfalls. Many waterfalls can be found along the shores of Lake Superior. The Canadian Shield dominates much of Ontario. Thunderhouse Falls and New Post Falls roughly mark the northern border of the Canadian Shield, and there are no real waterfalls north of them. There are (or were) a few falls in the relatively empty spot between Helen Falls and Lake Superior but I do not know how scenic or accessible any of them are. The Geographical Names of Canada also lists dozens of falls in northwestern Ontario, but again I do not know anything about them. I do know that pictures and descriptions of some waterfalls in Quetico Provincial Park along the Ontario/Minnesota border can be found on the web.
Depending on where you are in Ontario, some of the waterfalls of New York, Michigan or Minnesota may be close by.
---
This page has been accessed 138085 times.
Last Modified: Tuesday, 25-Mar-2008 16:01:41 MDT.