The Kepler Cascades are in Yellowstone National Park, a few miles south east of Old Faithful. There is a small parking area alongside the road. You can get down to the base of the falls if you are willing to negotiate a steep "trail" into the gorge.
Like many other places in Yellowstone, fires burned here back in 1989. The falls are surrounded by dead trees.
Nearby Falls
Yellowstone is full of waterfalls. The Upper Falls and Lower Falls are the grandest, and easily seen from several viewpoints.
Many of the others are roadside falls, such as Firehole Falls, Gibbon Falls, Kepler Cascades, Lewis Falls, Moose Falls, Rustic Falls, and Undine Falls. Others, such as Mystic Falls require a hike of a few miles, and there are many more wild and remote waterfalls.
Other Websites
Photo Gallery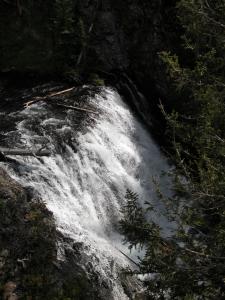 July 19, 2003
---
This page has been accessed 45505 times.
Last Modified: Monday, 28-Sep-2009 20:48:53 MDT.