Blue Hen Falls is in the Cuyahoga Valley National Park. This is one of the newest national parks, located just south of Cleveland. The area is well inhabited, but the park still contains many interesting natural sites.
This is a small waterfall and not all that interesting by themselves. I do not think that there is ever a lot of water going over this falls. The slightly larger and more scenic Buttermilk Falls is less than a mile downstream. This is not mentioned on any of the signs or maps, so it is easy to miss. They have only recently added a trail to the other falls, and it is a bit rough.
The falls can be reached from Boston Mills Road. A map of the park is available at the parks website. You can also pick them up any place that has tourist brochures.
Buttermilk Falls is just downstream. The much more impressive Brandywine Falls can also be found in the park.
Photo Gallery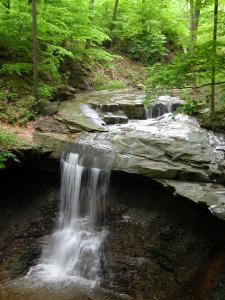 May 2004
---
This page has been accessed 109963 times.
Last Modified: Friday, 24-Jun-2011 21:16:45 MDT.