The New River begins high up in North Carolina and flows 320 miles northward before joining with the Gauley River to form the Kanawha. Despite some claims, it does not actually cut across the Appalachias, but it does run counter to the dominant topology of the area, cutting a deep and impressive gorge as it works its way through the hills. The gorge is over 1000' deep in places. Not surprisingly a fair number of waterfalls can be found in the area as smaller creeks tumble down into the gorge.
Two falls are located on the main river itself, Kanawha Falls and Sandstone Falls. Neither falls is particularly high, but both are 1000+ feet wide. Kanawha Falls is technically on the Kanawha River, but it is located just a few miles past the confluence of the New and the Gauley River, and traditionally the New and Kanawha have been considered the same river. A number of other "falls" are on the river, but they are all only a few feet high and mainly of note for rafters.
If you work your way upstream from Kanawha Falls, the first falls you will encounter is Cathedral Falls, one of the most scenic falls in West Virginia. Further along is Mill Creek Falls near Ansted, just outside of Hawks Nest State Park. Heading south along Route 16 towards Fayetteville will take you past Laurel Creek Falls.
In Fayetteville you will find the famous New River Gorge Bridge, a 3000 foot steel arch bridge that carries traffic 876 feet above the river. This is an impressive site and worth a visit. If you take the old road down into the gorge you can find Wolf Creek Falls, Marr Creek Falls and some other seasonal falls. Fern Creek Falls can be seen spilling into the gorge from the bridge, but reaching it on foot is very challenging.
Farther south the road to the old town of Thurmond will take you past Dunloup Creek Falls. This road continues through a wild section of the gorge where a number of seasonal side falls can be found. The most significant of these is the difficult to reach 90' Dowdy Creek Falls. Slater Creek and Buffalo Creek likely have falls on them as well.
Farther south you can find Kates Creek Falls and Glen Creek Falls north of Sandstone Falls, and Bad Branch Falls just a few miles south of Sandstone Falls. Bad Branch Falls is close to Brooks Falls, a 4 foot river wide drop on the New River. Many other falls can be found if you are willing to canoe or kayak down river and do some bushwhacking.
Most of the creeks in this area are mainly fed by rainfall, and in dry weather a lot of these falls get pretty thin. In wet weather dozens of other unnamed side streams tumble into the gorge resulting in dozens of scenic, but unnamed falls. A handful of these are pictured below.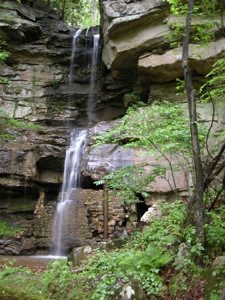 Unnamed Falls near Kanawha Falls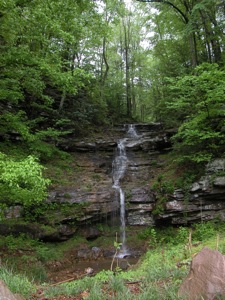 Unnamed Falls near Kanahwa Falls (Riggs Branch)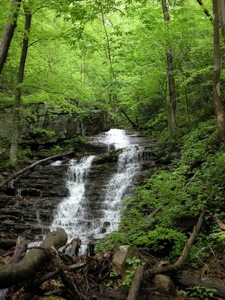 Unnamed Falls across the New River from Thurmond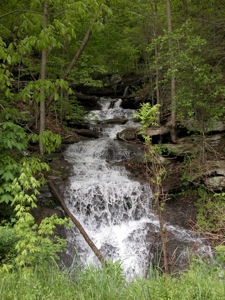 Unnamed Falls near Sandstone Falls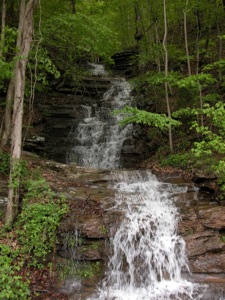 Unnamed Falls near Sandstone Falls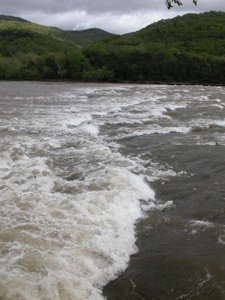 Brooks Falls