Manitou Falls is north of Manitouwadge Ontario. Getting to this waterfall is not easy, and it is not an especially scenic waterfall itself. However there are several other falls in the area, such as Twin Falls, Middle Falls, and High Falls, plus some other remote falls. Unfortunately there are hydroelectric plans which may impact all of these waterfalls.
My first vist to this area, and only visit to Manitou falls was the result of pretty picture of "High Falls in Manitouwadge" in the Lake Superior Circle Tour Adventure Guide. The guide gave no indication exactly where the falls were, but Manitouwadge was only 58km north of Hwy 17 and the road was a well mantained paved highway. Silly me. Hopefully this page will help someone make a more informed decision about visiting these falls.
Once in Manitouwadge, we got a copy of the map shown below from a local gas station, and recklessly and stubbornly headed off looking for the falls. To reach the falls you take Industrial Road towards Caramat. This is a big bumpy logging road that is heavily trafficked by big logging trucks that kick up huge clouds of dust as they rumble along at 50+ mph. The roads are long. The distance from Manitouwadge to Caramat is 78 km.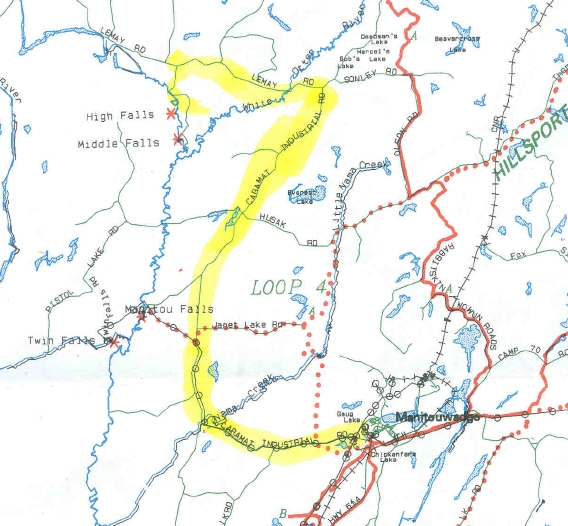 Map indicating location of falls. Red dotted lines are snowmobile routes. Black lines are roads. Yellow marks the path to High Falls. Manitou Falls road heads south west away from Industrial Road, and is about 18km from Manitouwadge.
After 18km we reached the turnoff for Manitou Falls. For all the wildness of the area, the signage is very good. At the beginning of the road a sign names all four falls. At 18km a sign indicates that Manitou Falls is to the left, and the other three are farther along. Unfortunately Manitou Falls Road was a beat up two track. Stubbornly we decided to hike the 5km road to the falls. The road gets progressively worse, but the signs remain. After seeing Manitou, we decided that continuing any further would be foolish, so we headed back south.
You definitely want a good truck or SUV when you go looking for these waterfalls. Industrial Road is wide, but very bumpy. To avoid being run down by logging trucks you will want to be able do 50 mph on the gravel roads.
Manitou Falls are somewhat complicated and not easy to see all at once. Some of the water falls over a 20 foot rock face, but most of the river goes around the rock to the right (from the river's perspective). Below this, the river drops another 5 to 10 feet as it falls over a bunch of rocks. Judging by the look of the rock above the falls, when the river is high these falls would be quite fierce.
High Falls and Middle Falls are both upstream on the Pic River. Twin Falls is relatively close as the crow flies, but to actually get there you have to go back to the main road and take a long about route to get there. Maps show a road crossing the Pic river, but there is no bridge. These falls all can be a side adventure of the Lake Superior WaterFall Tour.
Photo Gallery
| | |
| --- | --- |
| Manitou Falls Road | The Sign for the Falls |
| | |
---
This page has been accessed 38827 times.
Last Modified: Saturday, 08-Apr-2017 17:04:48 MDT.