Bridal Veil Falls is in the Spearfish Canyon, along Hwy 14, which is designated as a scenic byway. The waterfall itself is not all that pretty, but some of the other scenery is really nice.
Nearby Falls
Roughlock falls is a few miles to the north. There are signs telling you how to get there. Unfortunately, they have closed off all the good viewing areas in order to let the vegetation regrow. So unless you are willing to ignore some fences and signs, you will not be able to really see Roughlock Falls.
Photo Gallery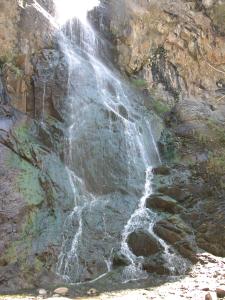 July 15, 2003
---
This page has been accessed 68617 times.
Last Modified: Wednesday, 04-May-2011 20:16:36 MDT.